Wellington City
Resonance Capital Sports Podiatry and City Podiatry
Bronwyn's main goal in her work is improving function and comfort of all her clients, whether this be through general nail and skin care, biomechanical assessment and management of foot and lower limb conditions, or footwear advice.
She has worked with the very young, to the older adult and feels comfortable with everything in between. Paediatric podiatry is a special interest to Bronwyn, as she knows how important early intervention and management of conditions can be, from growth plate injuries to ingrown toenails.
Bronwyn is passionate about having podiatry which is available and relevant for all – helping develop the Resonance Podicure for women who want comfortable and beautiful feet, and becoming an expert in utilising the keryflex nail restoration system for people who might be embarrassed about their toenails. She advocates for the benefits of people improving their knowledge of self-care, and confidence in their bodies and feet.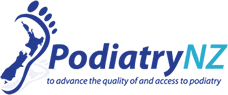 Bronwyn is a proud member of Podiatry NZ.
You can read about what Bronwyn loves about being a Resonance Podiatrist here.