Resonance Podiatry in the Wellington CBD
We are fortunate to be able to offer our clients two podiatry services within the CBD.
Both Capital Sports Podiatry and City Podiatry offer state-of-the-art gait analysis and a full range of professional podiatry services for all ages.
---
City Podiatry

Level 5,
187 Featherston Street
04 499 8103
City Podiatry has been keeping Wellington on its feet since 1996, offering effective, up to date care for issues of the feet and lower limbs.
In April 2013 City Podiatry and Resonance Podiatry came together to form Resonance City Podiatry. Shortly after, podiatrist Anne Dallas moved to service the feet and lower limbs at Resonance Footwork Podiatry in Feilding, Manawatu.
In July 2013 Wellington City was hit by two large earthquakes in which our friends at Capital Sports Medicine were forced to leave their building immediately. Within 48 hours they were all moved in alongside our rooms at City Podiatry. We are now located within the multidisciplinary clinic of Capital Sports Medicine which sees us working closely with Sports Physicians, Physiotherapists and many more health professionals.
At City Podiatry we care for common skin and nail conditions such as ingrown toenails, corns, calluses, verruca/warts right through to biomechanics and lower limb pain.
---
Capital Sports Podiatry

Level 5,
187 Featherston Street
04 499 5732

Video and pressure gait analysis
The new generation of technology for postural evaluation and biomechanical analysis; exclusive to Capital Sports Podiatry.
Our integrated treadmill and pressure plate technology quantifies the clinical picture to assist us in identifying the cause of biomechanical imbalances that are causing pain and/or dysfunction.
Book an appointment with Katie, Darren, or Bronwyn for your gait assessment.
Resonance Podiatry, Wellington is based in Capital Sports Medicine, in the heart of the CBD. Being part of the team at Capital Sports, in a multidisciplinary environment, means you get the best of the combined expertise of all of the health team.
Your one-stop sports medicine shop
Wellington's Capital Sports Medicine specialises in sports injuries and all musculoskeletal problems. All of the medical clinicians at Capital Sports Medicine, including our podiatrists, are at the top of their game – so you can get quickly back to yours.
Your sports podiatry specialists
The team at Wellington's Capital Sports Medicine and Resonance Podiatry are a group of totally passionate and highly respected health professionals. Almost all of the medical clinicians at Capital Sports Medicine have treated top professional and recreational athletes and worked with national sports teams.
Sports medicine podiatrist available
Resonance Podiatry and Gait Lab, in Wellington's CBD, has a number of specialists who are passionate about biomechanical malalignments, gait dysfunction and sports medicine, ranging from the recreational athlete to the elite. We are the people in Wellington to come to for the treatment of your foot and lower limb pain or injury, or to improve your performance.
---
Katie Vodanovich (Stewart)
Wellington City
Resonance Capital Sports Podiatry and City Podiatry
Sports and rehabilitation podiatrist Katie Vodanovich, has a passion for sports medicine, gait analysis, biomechanics, and paediatrics. She enjoys helping patients from all walks of life; ranging from youngsters, right to the elite athlete and the older adult.
Katie operates leading edge treadmill video gait and biopostural analysis facilities at Wellington's Capital Sports Medicine. With ten years' experience, access to premium technology, detailed clinical data and working within a collaborative environment, Katie can offer comprehensive treatment and management plans to her patients.
In addition to her clinical role, Katie is director of Resonance Capital Sports & City Podiatry and is also involved in providing technical training to Shoe Clinic, within their lower North Island stores.
Katie is passionate about improving her patients' function, pain and quality of life, loves being extended by ongoing professional development, and enjoys imparting her knowledge to help others.
All of this certainly keeps her on her toes; along with her husband, dog, and two preschool aged children!
 Katie is a proud member of Podiatry New Zealand and Sports Medicine New Zealand
---
Bronwyn Easterbrook-Smith
Wellington City and Porirua – Mana
Resonance Capital Sports Podiatry, City Podiatry, and Mana
Bronwyn is passionate about improving function and comfort of all of her clients, whether this be through general nail and skin care, biomechanical assessment and management of foot and lower limb conditions, or footwear advice. She has worked with the very young, to the older adult and feels comfortable with everything in between. Paediatric podiatry is a special interest to Bronwyn, as she knows how important early intervention and management of conditions can be, from growth plate injuries to ingrown toenails.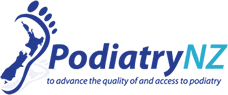 Bronwyn is a proud member of Podiatry NZ.
---

Contact us to make an appointment